What do you burn for? At Orangetheory Fitness Syosset, we'll help you be successful in all your most important fitness goals.
Every member of Orangetheory Fitness Syosset has a good reason to be here. We're all burning for something—something that's important to us. Have you written your goals on our wall, or shared the meme you created at
whatdoyouburnfor.com
? That creates accountability, which is a great way to help keep you on track. But we've got two more important tips for being successful with your fitness goals: get SMART and have FUN.
When it comes to setting goals, the acronym SMART stands for Specific, Measurable, Attainable, Relevant, and Time-Based. We're going to take a look at some of the top things our members burn for and break each one down to help you think about them and go about them the SMART way.
And we think you know what FUN means. Burning together is even better when we smile together, Syosset :)
I burn for confidence.
FUN: I want to love me as much as Kanye loves Kanye, and feel good about myself even if they unplug my mic at Coachella. (What do you think—was it an accident, or did someone unplug him on purpose?)
SMART:
Specifically, I want to: be proud of my appearance, strength, and capability—love myself.
Measurement: Do I feel better about myself? Do I smile more often? Do I criticize myself less? Do I worry less about how clothes fit? Am I more comfortable being in front of or around large groups of people?
Attainable: Everyone can and should feel confident. Do you believe you can reach this goal? Realize it's possible.
Relevant: How does confidence align with your life goals? Will it help you with other aspects of your life, like your job and love life?
Time-based: How often will you work out in order to reach this goal, and how often will you measure your confidence? When is it reasonable to expect a transformation?
I burn for family.
FUN: I want to be able to use a metal pipe to defend my grandma from the authorities, if need be. (Seriously, have you SEEN the viral video?)
SMART:
Specifically, I want to: (a) make sure I'm always there for my family; (b) physically interact with my kids and grandkids; (c) be a good role model for my children; (d) have a healthy pregnancy and childbirth; (e) __________ (fill in the blank—the possibilities are endless).
Measurement: Depending on your specific goal, measurement may be a doctor's assessment of your health, a visible change in your behaviors, or something else.
Attainable: Is it realistic that you should be able to take care of your family? We say yes! What do you say?
Relevant: How will being there for your family help you be the person you want to be?
Time-based: In order to reach my goal, I need to work out ___ times a week.
I burn for weight loss.
FUN: I don't want my arms to look like lumpy bread. (In case you haven't heard, baby arms are now being compared to bread all over the internet with the hash tag #mybabysgotthebestbreadphoto.)
SMART:
Specifically, I want to: Lose ___ pounds.
Measurement: via scale.
Attainable: Have realistic expectations. Losing weight takes time. Putting pressure on yourself to lose too much weight in too short a period of time may set yourself up for failure.
Relevant: Make sure you're doing it for you and what you want from life.
Time-based: I want to lose ___ pounds by the end of the end of the year, which means ___ pounds each month.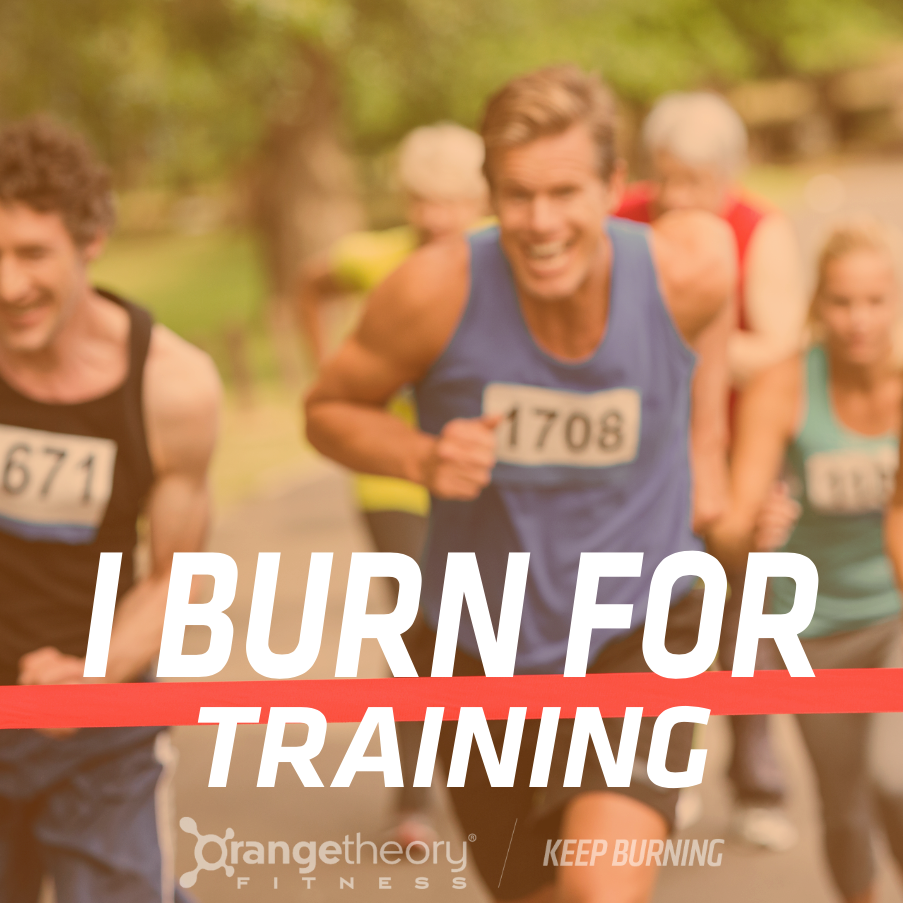 I burn for training.
FUN: I want to be on American Ninja Warrior and clear an entire course in record time—like this guy.
SMART:
·Specifically: Do you want to run a race or become better at a sport? Something else?
·Measurement: Successful completion of the 5K, marathon, etc., or a better running time.
·Attainable: If you've never run a marathon, consider starting with a 5K and working your way up. It may be unrealistic to initially expect to cut your running time in half, but how about going minute by minute?
·Relevant: Have you always wanted to run a 5K, or is someone else pushing you to do it? Your goals should be what YOU truly burn for.
·Time-based: When is the 5K you'd like to run? Is it realistic to be ready by then? What smaller, periodic goals can you set for yourself along the way so you make steady progress toward the deadline?
I burn to live guilt-free.
FUN: I want to sit on Facebook all day and make (and eat) all the food from the "Tasty" videos. Red velvet churros, anyone?
Get SMART:
Specifically: I like to eat ice cream for breakfast sometimes. Burgers and binge-watching are great, too.
Measurement: Are you able to enjoy these guilty pleasures without taking a blow to your confidence or weight loss goals?
Attainable: It may not be a realistic (or healthy) goal to be able to eat junk food all day every day, but being able to enjoy things like dessert in moderation (without guilt) is attainable if you keep burning.
Relevant: Think about how this goal may help you enjoy your life and live to the fullest.
Time-based: How often do you want to be able to indulge in less-than-healthy food? How often do you need to work out?
What do YOU burn for?
Whatever your fitness goal is, thinking about it with the right mindset and having fun with it can help you turn it from a dream into reality. But don't forget about your support system! For extra help conceptualizing your goal in a way that's specific, measurable, attainable, relevant, and time-based—and making sure you're on the right path to get there—talk to and share your goals with your trainer here at Orangetheory Fitness Syosset.